About, Search-box, etc. Click image below to order bumper sticker.

.
In War on Corona Virus (aka CoVid-19 aka CCP-Wuhan Virus)I, Far UV aka Far UVC aka Far UV Light beats 6 feet apart (as social distancing) and also beats masks, gloves, liquid sanitizers, disinfectants, vaccinations, shutdowns, lockdowns, contact-tracing, governmental surveillance, etc.
May 10, 2020:
By Jim Wrenn, Editor, PoliticalXray.Com a.k.a. PoliSat.Com
Interested in scientific solutions rather lockdowns, shutdowns, masks, gloves, social-distancing, etc? Check these out:
https://sterilray.com/category/news/
https://healthelighting.com/blogs/media
https://www.ushio.com/product/care222-mercury-free-far-uv-c-excimer/
https://news.columbia.edu/ultraviolet-technology-virus-covid-19-UV-light
Covid-19 is serving as justification for governmental restrictions on liberties. Some justified, many not. Isn't there a way for science to end the dangers of Covid-19 (and other viruses also)? YES-- Existing technology can make "social distancing" and "lockdowns" obsolete.

To view this information as a gif-image-slide-show, click desired size: 200x289 300x433 400x577 500x722 600x866 861x1243 .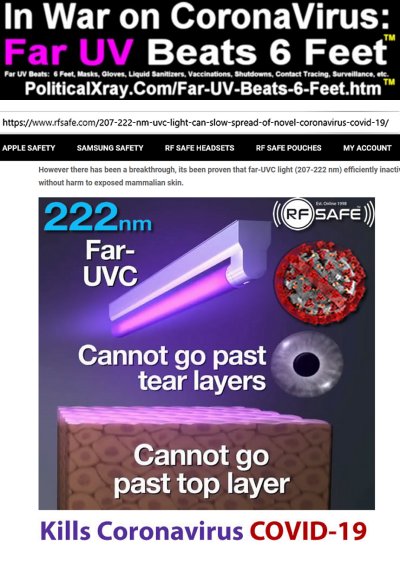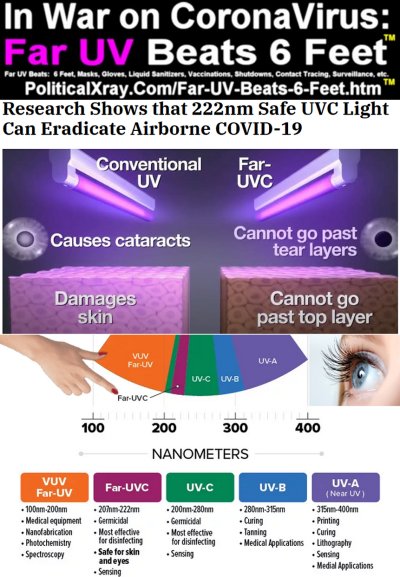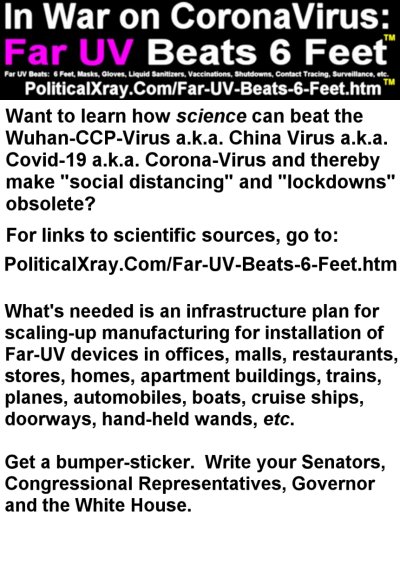 Below is what PoliticalXray hopes Trump will say whenever his scientific advisers finally acquire a thorough understanding of Far UV technology rather than what he's already said as of 2020-09-16: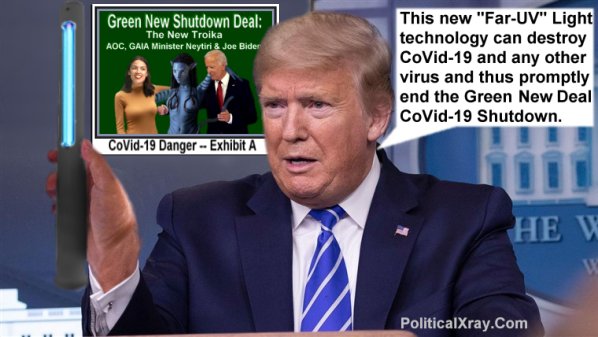 Far UV technology would make shutdowns and masks obsolete. And, of course, it would also eliminate an argument for a "Green New Deal Shutdown."
https://PoliticalXray.Com/Far-UV-Beats-6-Feet.htm
OR
https://PoliticalXray.com/DailyPoliticalSatire-Commentary/Archives2020/du20y20m05d10-01.htm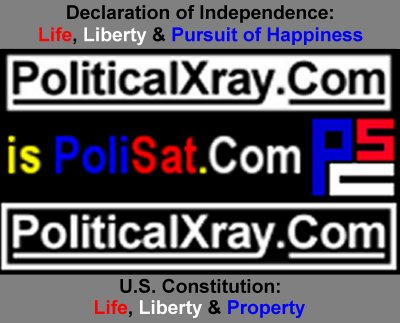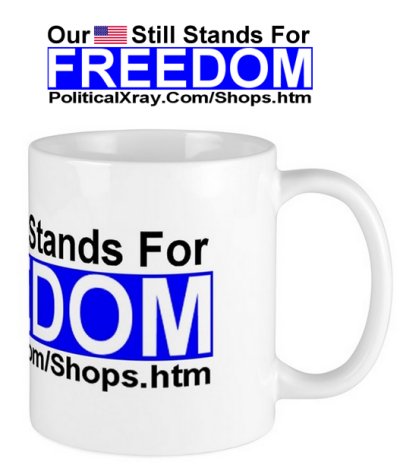 END.
end.